¡¡
¡¡

Conductors :
All aluminum stranded conductor (AAC) & aluminum conductor steel
reinforced (ACSR)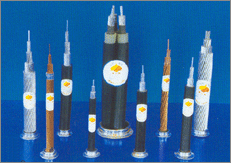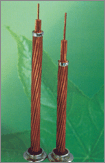 ¡¡

Application
AAC and ACSR have been widely used in overhead power transmission lines with various voltage levels, since they have such good characteristics as simple structure, convenient installation and maintenance, low cost for the line, large transmission capacity and are also suitable for laying across rivers and valleys with special geographical features, etc.

Type
The standard "Round Concentrically-stranded overhead conductors" GB/T1179-1999 equivalently adopts IEC 6089-1991 standard. For AAC's type contrast of new. old GB standards with IEC standard, see Table 1.
| | | | |
| --- | --- | --- | --- |
| Standard | GB 1179-83 | GB/T1179-1999 | IEC61089-1991 |
| AAC | LJ | JL | A1 |
| ACSR | LGJ | JL/G1A, JL/G1B, JL/G2A, JL/G2B, JL/G3A | A1/S1A,A1/S1BA1/S2A, A1/S2B, A1/S3A |
| Anti-corrosion ACSR | LGJF | JL/G1AF, JL?G2Af, JL/G3AF | ¡¡ |

Our company can not only produce AAC and ASCR in the light of ASTM, DIN, BS, etc. according to the needs of our customers but also products nonstandard AAC and ACSR according to the customer's special requirements for cross section, structure and performance, and produce anti-corrosion ACSR according to the customer's needs of different anti-corrosion grades by way of applying an anti-corrosion coating between arbitrarily designated layers of the ACSR.

Note:
For cables of those in GB1179-83, there is still a lot of customers and a certain market during the transition from the old standards to the new ones, therefore they can be treated as nonstandard (or customers specially required) products

Specification
The product's specification number represents conductive cross section of hard round aluminum wire
As to the specification and structure of AAC, see Table 2.
As to the specification and structure of ACSR, see Table 3.

Material standard
The hard aluminum conductor used for AAC and ASCR implements GB/T17048 standard (equal to adopt IEC 60889 standard).
The mine-coated steel wire used for ACSR implements IEC 60888 standard.
According to the needs of customers, that is, the material standards and requirements put forward by customers, we organize our productions.

Product Performance
The electrical performance of AAC and ASCR is indicated in §Ù/§°(20¡É). The resistance of the hard aluminum wire for conductors is not greater than 0.028264§Ù/§±/m, the international standard value.
ACSR is divided into three strength grades, ie. common strength grade, high strength grade and extra-high strength grade.
For the performance of AAC, see Table 2.
For the performance of ACSR, see Table 3.

Product Maintenance
Any bump, press or damage should be avoided during handing and transportation
The cable drum shall not be placed flat during transportation and storage.
Moisture resistant measures should be taken during storage.

Notice upon ordering the cable
The customer should provide the following information during order or consult :
The type. specification number an stranding structure of the product.
The standard to be implemented.
Product quantity.
Stranding direction, (if not specially required, the outer layer is right-handed).
Anti-corrosion kind and requirement (If anti-corrosion is needed).
Cable length and deviation on each drum, short cable length suitable for project, and percentage of short cable in lot delivery.
Package kind and special package requirements.
Specially required test items, ways and test site.
Delivery data and delivery way.
Table 2 Performance of JL AAC
Specification
NO
area
§±
Number of single conductor
Diameter mm
weight / length Kg/Km
Beaking load rating KN
DC resistance at 20¡É §Ù/§°
Single conductor
Standard conductors
10
10
7
1.35
4.05
27.4
1.95
2.8633
16
16
7
1.71
5.12
43.8
3.04
1.7896
25
25
7
2.13
6.40
68.4
4.50
1.1453
40
40
7
2.70
8.09
109.4
6.80
0.7158
63
63
7
3.39
10.2
182.3
10.39
0.4545
100
100
19
2.59
12.9
274.8
17.00
0.2877
125
125
19
2.89
14.5
343.6
21.25
0.2302
160
160
19
3.27
16.4
439.8
26.40
0.1798
200
200
19
3.66
18.3
549.7
32.00
0.1439
250
250
19
4.09
20.5
687.1
40.00
0.1151
315
315
37
3.29
23.0
967.9
51.97
0.0916
400
400
37
3.71
26.0
1102.0
64.00
0.072
450
450
37
3.94
27.5
1239.8
72.00
0.0641
500
500
37
4.15
29.0
1377.6
80.00
0.0577
560
560
37
4.39
30.7
1542.9
89.60
0.0515
630
630
61
3.63
32.6
1738.3
100.80
0.0458
710
710
61
3.85
34.6
1959.1
113.60
0.0470
800
800
61
4.09
36.8
2207.4
128.00
0.0361
900
900
61
4.33
39.0
2483.3
144.00
0.0321
1000
1000
61
4.57
41.1
2759.2
160.00
0.0289
1120
1120
91
3.96
43.5
3093.5
179.20
0.0258
1250
1250
91
4.18
46.0
3452.6
200.00
0.0231
1400
1400
91
4.43
48.7
3866.9
224.00
0.0207
1500
1500
91
4.58
50.4
4143.1
240.00
0.0193
Table 3 Performance of ACSR (JL/GLA, JL/G1B JL/G2A, JL/G2B, JL/G3A)
¡¡
No
Standing number/diameter
Overall diameter mm
Weight/ length kg/mm
Breaking load rating
DC resistance at 20¡É §Ù/§°
aluminum
steel
JL/G1A
JL/H1B
JL/G2A
JL/G2B
JL/G3A
mm
KN
16
6/1.84
1/1.84
5.53
64.6
6.08
5.89
6.45
6.27
6.83
1.7934
25
6/2.30
1/2.30
6.91
100.9
9.13
8.83
9.71
9.42
10.25
1.1478
40
6/2.91
1/2.91
8.74
161.5
14.40
13.93
15.33
14.87
16.20
0.7174
63
6/3.66
1/3.66
11.0
254.4
21.63
20.58
22.37
21.63
24.15
0.4555
100
6/4.61
1/4.61
13.8
403.8
34.33
32.67
35.50
34.33
38.33
0.2869
125
18/2.97
1/2.97
14.9
397.9
29.17
28.68
30.14
29.65
31.04
0.2304
125
26/2.47
7/1.92
15.7
503.9
45.69
44.27
48.54
47.12
51.39
0.2310
160
18/3.36
1/3.36
16.8
509.3
36.18
35.29
37.42
36.80
38.67
0.1800
160
26/2.80
7/2.18
17.7
644.9
57.69
55.86
61.34
59.51
64.99
0.1805
200
18/3.76
1/3.76
18.8
636.7
44.22
43.11
45.00
44.22
46.89
0.1440
200
26/3.13
7/2.43
19.8
806.2
70.13
67.85
74.69
72.41
78.93
0.1444
250
22/3.50
7/2.11
21.6
880.6
68.72
67.01
72.16
70.44
75.60
0.1154
250
26/3.50
7/2.72
22.2
1007.7
87.67
84.82
93.37
90.52
98.66
0.1155
315
45/2.99
7/1.99
23.9
1039.6
79.03
77.51
82.08
80.55
85.13
0.0917
315
26/3.93
7/3.05
24.9
1269.7
106.83
101.70
114.02
110.43
121.20
0.0917
400
45/3.36
7/2.24
26.9
1320.1
98.36
96.42
102.23
100.29
103.10
0.0722
400
54/3.07
7/3.07
27.6
1510.3
123.04
117.85
130.30
126.67
137.56
0.0723
450
45/3.57
7/2.38
28.5
1485.2
107.47
105.29
111.82
109.64
115.87
0.0642
450
54/3.26
7/3.26
29.3
1699.1
138.42
132.58
146.58
142.50
154.75
0.0643
500
45/3.76
7/2.51
30.1
1650.2
119.41
116.99
124.25
121.83
128.84
0.0578
500
54/3.43
7/3.43
30.9
1887.9
153.80
147.31
162.87
158.33
171.94
0.0578
560
45/3.98
7/2.65
31.8
1848.2
133.74
131.03
139.16
136.45
144.19
0.0516
560
54/3.63
19/2.18
32.7
2103.4
172.59
167.63
182.52
177.56
192.45
0.0516
630
45/4.22
7/2.81
33.8
2079.2
150.45
147.40
156.55
153.50
162.21
0.0459
630
54/3.85
19/2.31
34.7
2366.3
191.77
186.19
202.94
197.36
213.32
0.0459
710
45/4.48
7/2.99
35.9
2343.2
169.56
166.12
17643
172.99
182.81
0.0407
710
54/4.09
19/2.45
36.8
2666.8
216.12
209.83
228.71
222.42
240.41
0.0407
800
72/3.76
7/2.51
37.6
2480.2
167.41
164.99
172.25
169.83
176.74
0.0361
800
84/3.48
7/3.48
38.3
2732.7
205.33
198.67
214.67
210.00
224.00
0.0362
800
54/4.34
19/2.61
39.1
3004.9
246.52
236.43
257.71
250.61
270.88
0.0362
900
72/3.99
7/2.66
39.9
2790.2
188.33
185.61
193.78
191.06
198.83
0.0321
900
84/3.69
7/3.69
40.6
3074.2
226.50
219.00
231.75
226.50
244.50
0.0322
1000
72/4.21
7/2.80
42.1
3100.3
209.26
206.23
215.31
212.28
220.93
0.0289
1120
72/4.45
19/1.78
44.5
3464.9
234.53
231.22
241.15
237.84
247.77
0.0258
1120
84/4.12
19/2.47
45.3
3811.5
283.17
276.78
295.94
289.55
307.79
0.0258
1250
72/4.70
19/1.88
47.0
3867.1
261.75
258.06
269.14
265.44
276.53
0.0231
1250
84/4.35
19/2.61
47.9
4253.9
316.04
308.91
330.29
323.16
343.52
0.0232

¡¡
Copyright(c)since 2003 Reliance Corp. All right reserved
1304, Kumkwang Benesta,1149-2, Jung-Dong, Wonmi-Gu,
Bucheon-city, Gyeonggi-do 420-020, KOREA